"Committed to helping people live longer, healthier lives."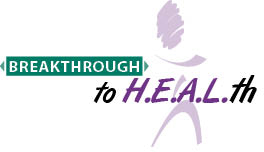 To help with our health and wellness efforts, we received a matching grant from the Robert Wood Johnson Foundation (RWJF), the nation's largest philanthropy devoted to health and health care. The grant is used for our Health Education and Leadership (H.E.A.L.) project, which was created with the goal of empowering individuals who have a serious mental illness to take charge of their wellbeing through physical activity and healthy nutrition skills. Other funders for the grant include: United Methodist Health Ministry Fund, Wichita Community Foundation, and Cargill Cares.
Partners in the project:
-Mental Health Association of South Central Kansas (MHA) provides a site for wellness training and fitness classes.
-Genesis Health Club fitness staff trains project participants in physical exercises and are crossed-trained in mental health education.
-The University of Kansas School of Medicine-Wichita (KUM-W) has created healthy food skills training for Breakthrough and MHA food service staff and also hosts "Lunch and Learn" sessions to educate the Wichita community on health concerns related to mental illness.
-The Department of Human Performance Studies at Wichita State University has created an online fitness curriculum for HEAL project trainers.
H.E.A.L. Project includes:
-12 week program
-personal fitness plan designed with a H.E.A.L. specialist
-opportunities to participate in an array of physical activities
-hands-on cooking classes with healthy, affordable food options
-access to Genesis Health Club personal trainers
-leadership opportunities
-peer support groups
All services are FREE to Breakthrough and MHA members!!!
Requirements for the project:
-Must be a member of Breakthrough and/or Mental Health Association (MHA)
-Have to be diagnosed with a severe mental illness and meet other criteria required by Breakthrough and MHA
-Wants to make strides towards leading a healthier lifestyle while having fun!
For more information on the H.E.A.L project contact the H.E.A.L. Project Coordinator, Marty Quy, at Breakthrough 316.269.2534 ext. 118.